Viscosity and Filtration Control Aid for Water Based Drilling Fluids
CMC- HV Carboxy methyl cellulose is an effective additive for reducing the A.P.I. filtration rate in most water based drilling fluids. CMC HV also increases mud viscosity and provides a cost effective means of improving water based drilling fluid performance.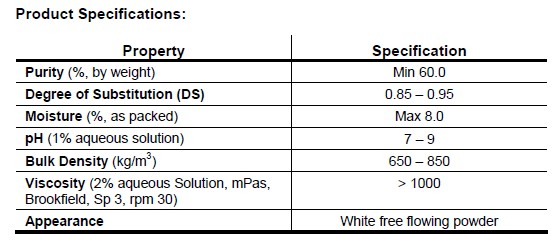 Applicable Fluid Types:
CMC-HV is applicable in the following general types of fluid systems.
Freshwater Muds
Seawater Muds
Saltwater Muds (up to and including saturation)
KCL Muds
Solids Free Brine (NACL and KCL)
Native Muds
Functions:
CMC-HV may be used efficiently in the indicated types of fluid to:
Reduce the filtration rate of the fluid
Increase and improve the fluid rheology (including suspension and hole cleaning)
Stabilize fluid rheology in the presence of contaminants
Coat and encapsulate cutting and solids in the drilling fluid, thereby inhibiting the swelling and disintegration of water sensitive solids.
Improve the character and consistency of wallcake, thereby reducing the potential for stuck pipe.
 Typical Product Application
The following information recommends typical treatment of CMC-HV in various types of fluid systems.
Packaging:
Packaged in 25 kg multiwall paper sacks.
Legislation and Handling Recommendations:
No Restricted by any regulatory agency.  Refer to the Material Safety Data Sheet (MSDS) for the product prior to use.