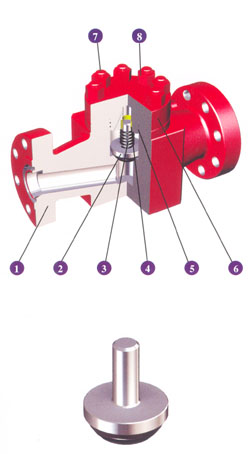 The product is designed and manufactured accord-ing to API Spec 6A "Equipment Specification of Well-head & X'mas tree" and matched and interchangeablewith any equipment which conforms to API 6Aspecification.
It creates the metal-to-metal seal by the pressureof the medium, the more the pressure is, the better thesealing effect is. Anytime the valve chamber can bearthe pressure of the pipeline.
Valve body is machined of alloy steel forging with astronger machinery properties and reliable performance.
Bonnet is connected with valve body with bolt, theseals include the sealing ring in the bonnet and the sealin the valve body;
The sealing face between valve core and valve bodyis welded with hard alloy with good abrasion resistanceand anti-scour; the valve core is made of sulfide-resistance steel and the others adopt the process of hard-ness limit so the valve is able to be used in H2S condition.
The sealing-face of the valve core and the valvebody is bead-welded with carbide, plus rubber seals,which has.
Operation instruction
According to medium flow direction and by the flowdirection indicating plate of the valve, the valve isinstalled. As positive flowing, The medium lifts the valvecore and pass easily; If no positive medium pressure,valve core will self-shut off valve gate under self-weightand spring's tensile force, the back medium flowing stop.
Maintenances
The valve should be placed in the dry and airy room,and the inlet and outlet are sealed properly.
When the product is stored, the end flanges shouldbe coated by oil against rust and dirt pollution.
The valve-core and the valve-seat must be exam-ined every in a well time. The attrition rate will decidewhether they are used by upset or are replaced.
Every seal element is replaced according to itsexamination.
There is a bit leak at a couple of seals of valve, andthe sealing-face may have scratch or wear. Renovationwill be done under face-off and ground finish.
As leak appears at the middle one of the valvebores, ring gasket should be replaced.
Parts List:
| | | | | |
| --- | --- | --- | --- | --- |
| Item | Component | Qty | Material | Remark |
| 1 | Body | 1 | 35CrMO | |
| 2 | Valve Core | 1 | 35CrMO | |
| 3 | Spring | 1 | 65Mn | |
| 4 | Bushing | 1 | ZcuA19-4 | |
| 5 | O-Ring | 2 | NBR | |
| 6 | Cover | 1 | 35CrMO | |
| 7 | Stud | 8 | 35CrMO | |
| 8 | Nut | 8 | 40Cr | |