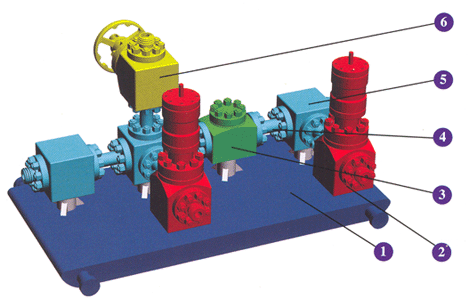 SYJYGH-105 test manifold manufactured by SanyiCompany is a matched assembly for hydraulic test andis a necessary equipment to achieve control of pressure.
一、Main technology specification
Working pressure:105MPa
Working medium:Water 、oil
Working temp:-29℃——121℃
Nominal bore:
Main bore:25mm(1″)
Side bore:25mm(1″)
Connection type:Union
Material class:EE
Product specification level:PSL3
二、Structure statement
The material of the manifold should conform to therequirement of API Spec 16C and NACE MR0175.
The manifold consists of manual plate gate valve,hydraulic plate gate valve, cross, tee, flange and unionetc.
三、Maintenance
Cad base grease will fulfill thrust bearing and bechecked of consumption and added up without delay, ifgo bad or polluted, it should be replaced.
Check valve chamber and grease monthly, timelysupplement to ensure lubrication between valve gateand valve seat and sealing reliability.
Stem thread should be injected with grease.
If valve stem has leakage, grease can be injectedthrough the injection valve in the bonnet, if notapplicable, the stem pack should be replaced.
Out of usage, the assembly should be cleaned up andinspected, especially for plate valve, the valve gate,bonnet, valve seat and valve chamber should be cleanedup, heavily abrasive part should be repaired andreplaced, the grease inside valve chamber should bereplaced and re-filled.
| | | | | |
| --- | --- | --- | --- | --- |
| No. | Item | Quantity | Material | Remarks |
| 1 | Base | 1 | | |
| 2 | 25/105 Fluid Flat Valve | 2 | | |
| 3 | 25/105 Ball-and-Seat | 1 | | |
| 4 | 25/105 Flange Stub End | 6 | 30CrMo | |
| 5 | Cross-Tee | 3 | 30CrMo | |
| 6 | 25/105 Flat Valve | 1 | | |