Top Drive Valve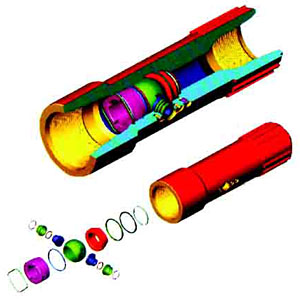 The Top Drive Valve is made from special high quality alIoy steel fully heat treated and machined to meet or exceed API specification Its one?piece body design ensures maximum strength for safety and reliability.
The valve utilizes positive reliable metaI to metal seals for upward and downward pressures providing dependable high pressure service. It has a pressure rating of 10 000psi or 15,000psi and its shell is tested at the factory to 15,000psi or 22,500psi respectively. The bore of the valve body and all internal parts are special plated to prevent damage from corrosion and have a long life service.
When ordering or requesting quotation, please specify:
1 Explain valves use and type;
2 OD.and ID;
3 Overall length;
4 Size and type of connection, etc.