Conductor Pipes & Drive Pipe for Oil and GasWells, Offshore structure and Piling.
Conductor pipes & Drive Pipes are large-diameter pipes set into the ground to provide the initial structural foundation for an oilwell so that the walls of the well are prevented from collapsing on itself.
It is sometimes also called the drive pipe because it is usually driven into the ground surface (often made of loose inconsolidated sediment) with a pile driver before drilling commences.
Similarly, the conductor pipe is set in the seabed as the key structural foundation in offshore rigs as well.
Conductor pipes & Drive Pipes are manufactured according to API5L Specifications.
We supply conductor drive pipes with Pin & Box thread connections.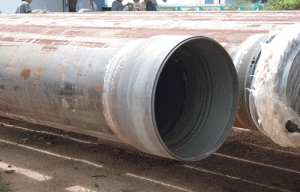 Conductor pipes come in the following specifications.  Please contact us to discuss your requirements.
| | |
| --- | --- |
| Specification | |
| Sizes | Outside Diameter (Inches) 16 to 38 |
| Grades | B, X52, X56, X60, X65, X70, X80 |
| Type of Welding Process | ERW (Electric Resistance Weld), SAW (Submerged Arc Weld), UOE, JCOE |
| Connections | with Weld-on Connectors, Connections grade: 70ksi, 95ksi, 110ksi |